Rolling Ridge Stables
Combined Training and Dressage Barn
---
Services



Home





Facilities





Sales



Standing

Rolling Ridge provides training and boarding.
Dakota - giving a lesson to Jennifer and her 32 year
old Arabian gelding, Rebuse.

Our facility is available for outside trainers and clinicians to bring their students to school.

Rolling Ridge has sponsored schooling shows (combined tests).
Breeding: Caliente is available for breeding, fresh-cooled or frozen semen. No live cover. Owner reserves the right to decline request.

Download the Price List Download the Release Download the Board Contract
---
OUR TRAINERS
Grace Harris

Grace is our dressage instructor and coach. Her emphasis is on improving balance, suppleness, rhythm and tempo. Focus is placed on the biomechanics necessary to positively influence the horse. Grace has helped riders in multiple disciplines -- event, endurance,hunter, and western – in addition to her main focus on training and supporting her students in dressage competition.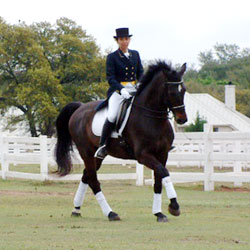 Grace has been riding since age 10, starting as an event rider in New Jersey. In 1979 she moved to southern Florida and began devoting more attention to dressage. She moved to Texas in 1997 and now makes her home in Austin. She competes through Prix St. George.

Grace has over 10 years of instructor experience and has completed USDF Instructor Certification workshops for lunging, riding, and teaching. Grace coaches regularly at local and regional dressage shows and sponsors local clinics with trainers such as John Zopatti of Wellington, Florida, the 2003 and 2004 Gold Coast Dressage Association's Trainer of the Year. She audits and participates in numerous clinics in and outside of Texas, including Mary Wanless on an annual basis.

Grace is available to teach at a number of area barns. For more information, visit her website at www.waterloodressage.net.

Janet Manley

Janet teaches communication with the horse. Janet was born, educated, and trained in England, bringing over 20 years of experience in dressage and eventing to her students. In England, Janet attained her BHSII (British Horse Society Intermediate Instructor) certification and trained under (the famed?) Yes! Molly Sivewright. In the United States, Janet has coached riders to regional and national eventing championships.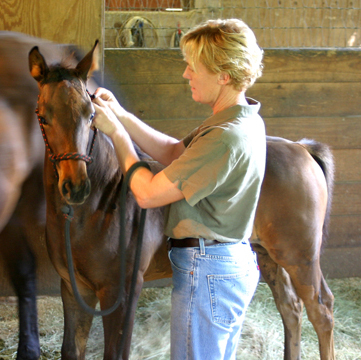 Janet serves as the trainer and program director of Hy Court Farm, a breeding program devoted to breeding high quality sport horses with a focus on temperament, talent, and training. She is known for her ability to understand and develop solid basic communication skills to help horses reach their potential and the patience not to take short-cuts getting there. Janet conducts clinics, sponsors clinics with trainers such as Linda Hoover and Tom Curtin, and teaches private lessons to help riders and owners make the most of their relationships with horses.

For more information, visit the HyCourt Farm website at hycourtfarm.com .

Beverly Manroe

Beverly is our jumping instructor and coach. Beverly has been riding since age nine and has over 30 years of experience teaching riding. She started teaching riding in high school. When she came to Austin to attend the University of Texas in 1968, she started teaching at Hobby Horse Stables. In the mid-70s she began teaching at Switch Willow Stables, where she continues to teach today. She also serves as Assistant Equestrian Coach at Baylor University (NCAA Women's Equestrian Division).

For over 20 years Beverly has held and run the "Summer Circuit," a series of three shows recognized by the Texas Hunter and Jumper Association and the Central Texas Hunter-Jumper Association (Cen Tex), that provide a primarily indoor, local show opportunity in the heat of summer. The shows are held at the Expo Center, which is just 10 minutes from Rolling Ridge Stables.

For more information, e-mail Beverly at sumcircuit@aol.com.



OUR STAFF

Ruth and Joe Rivera

Ruth and Joe, a husband and wife team from Ohio, with over 20 years experience of caring for horses, live on-site and work full-time for Rolling Ridge. They gained their horse experience beginning in the mid-90s at the Mountaineer Racetrack in West Virginia. Joe is a trained farrier and Ruth has an Assistant Trainer's license from West Virginia.

Kirsten Lotter

Kirsten, who works part-time at the barn, is an RN full time. Kirsten is an Eventer, taking her horse Taylor from Novice through Prelim. Kirsten and Taylor ended 2003 as CTDS high-point training level dressage, as TCE 5th place and Area V 9th place training level eventing. In 2005 she and Taylor ended the year high-point 3'6" jumper for Central Texas Hunter-Jumper Association.

Benny Valdez

Benny is our newest part-time employee. He is an Austin native who plans to continue studying criminal justice at Austin Community College this Fall and to join a soccer league. He has a small farm of his own in Coupland, but has not yet succumbed to the lure to buy a horse.
---
P.O. Box 280 Austin, Texas 78767
Phone 512.276.7787
email: manager@rollingridgestables.com
&copy Copyright 2007, Rolling Ridge Stables