<!C-base href="http://ww.cheryllong.net/LosAmantes.html"->


"CALIENTE"
Black 16.3h Holsteiner Stallion
Stamm 1298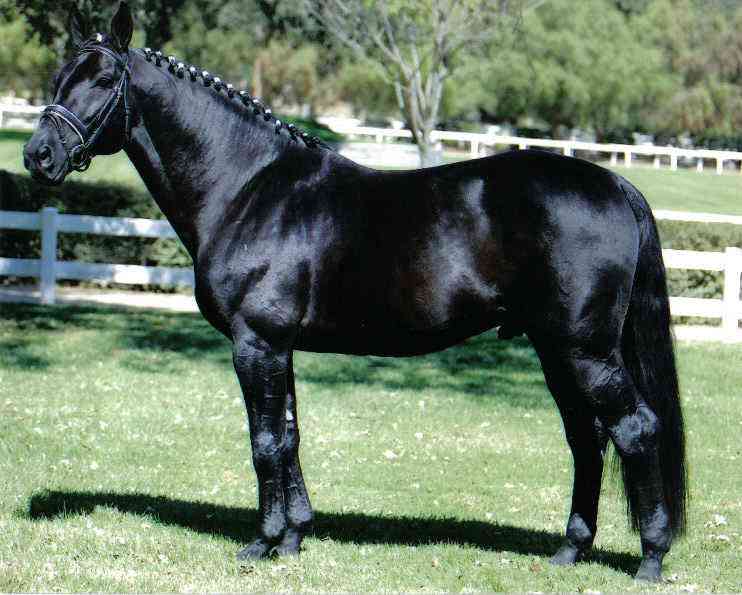 Caliente carries one of the very best stamm numbers from the famous mare line that produced "Lord". He has an outstanding disposition and passes that on to his offspring. Currently focused on Second Level dressage, Caliente has also successfully competed at jumping and eventing shows in California. The grandson of famous Olympic jumper Caletto II, who has produced many Grand Prix horses competing internationally, Caliente has easily free jumped 5ft 6in obstacles.
---
Pedigree
CALIENTE
Reg# 241501 1015 93
Stem 1298

CAESAR (HOL)
Caletto II (HOL)
Cor de la Bryere (SF)
Rantzau XX
Quenotte (SF)
Deka (HOL)
Consul (HOL)
Oekonomie (HOL
Odett (HOL)
Toledo (HOL)
Tumbled XX
Beate I (HOL)
Hondura (HOL)
Rhadames (HOL)
Rast (HOL)
FANESSA (HOL)
Flamingo (HOL)
Fasolt (HOL)
Farnese (HOL)
Konradine (HOL)
Navarra (HOL)
Lopghorn (HOL)
Columbia (HOL)
Gothea (HOL)
Waterman (HOL)
Water Serpent XX
Ilda (HOL)
Cortina (HOL)
Ladykiller XX
Viola (HOL)
Notice the high percentage of Holsteiner blood in Caliente's pedigree.
Only a handful of Holsteiner stallions in the AHHA stud book have this
high a percentage of Holsteiner blood.